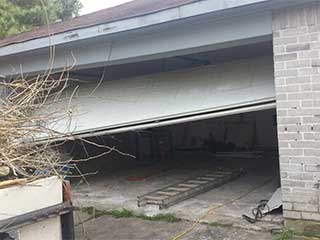 There's no replacement for regular and professional maintenance, but there's a lot you can do yourself as a garage door owner. The most important thing is to pay attention to how your door looks and operates, and notice when something doesn't seem right. It's not a good idea to go poking at your garage door without professional training, but just looking and listening can go a long way towards preventing a hazard. Below are some warning signs to check for.
Watch For Changes
The most important thing you can do to stay abreast of your garage door's state is to pay attention to how things change over time. Is the door opening more slowly than it used to, or moving in a twitchier, inelegant fashion? Is it making noises that it didn't used to make, or making them louder? Is there a delay between pushing the button and the door starting to move that didn't used to exist? If so, you should strongly consider moving up the next maintenance appointment.
Rust Can Happen
Rust is one of the most persistent enemies of garage owners, and it can do a lot of damage to your system if you let it build up. Any metal components of your garage door can rust, but the most vulnerable parts are the panels, hinges and tracks, since these are more often exposed to the outside. If your garage roof or wall has a leak, then your springs and chains will be in more danger as well. Inspect everything for flecks of red, especially if your door has been making grinding or scraping noises. If there are any signs of rust in your springs in particular, you should get a professional to come over and inspect it immediately.
Test The Safety Features
Most modern garage doors come with a pair of safety sensors located on either side, and many also have an automatic locking system that will stop the door in place if it encounters resistance. You can test these systems by placing objects of different sizes under the door and seeing if it trips the optic sensors. To test the safety lock, unplug the sensors and try to close the door on something to see if it stops upon touching it. Make sure to stand clear when you're running these tests!
You can learn more about garage door maintenance, or ask about our professional repair and installation services, by contacting us directly. Call us today!