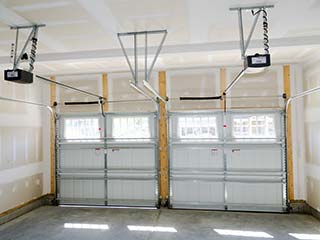 A broken garage door spring is a medium-sized problem, but if ignored it becomes a very big one. Since springs provide most of the strength needed to lift your garage door, the loss of one makes using the door a risky decision. If you try to open or close the garage door with a broken spring, your electric opener will be straining against the weight. Openers aren't designed to lift that much on their own, and trying to will leave you needing much more expensive components replaced! Even if your garage door has more than one spring (which most of them do), the other springs will be overburdened with all the uneven weight. Lucky for Chaska residents, our technicians are ready to provide same-day garage door spring replacement services with just a call!
How Long Do Garage Door Springs Last?
The lifespan of a garage door spring depends on what kind it is, and on how often you use your garage door. Extension springs, the kind that points away from the garage door, tend to last ten to twelve thousand opening cycles. Torsion springs, which sit parallel to the garage door above it, last longer, from fifteen to twenty thousand cycles. A "cycle" refers to a complete opening and closing of the garage door. In practice, most extension springs last 4-8 years, while torsion springs last from 7-14 years, assuming typical car usage. Of course, you're better off changing your old garage door springs before they break instead of waiting for trouble!
Perils Of Broken Garage Door Spring Replacement
To do the work of lifting your garage door, the springs store a lot of energy in the form of tension. Because of this, a broken garage door spring might snap or break violently when handled if you don't know exactly what you're doing. Every year, thousands of homeowners are injured attempting amateur garage door spring replacement, some of them seriously. Springs might be simple mechanisms, but installing new garage door springs is not a simple process. If your springs are getting old, or have already broken, you should call your local Chaska spring repair professionals to handle it.
Dependable Garage Door Spring Replacement In Chaska
Our garage door technicians have been in this business for over a decade, and they've seen everything when it comes to broken springs. All it takes is a phone call, and we'll have them over to your Chaska address before the day's end. Garage door spring installation, broken spring replacement, and any other maintenance services your overhead door requires are easy and affordable. Call us now and we'll be right on our way!