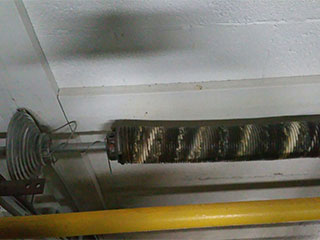 Your garage door springs are an important part of your automated doors since they work hard to keep them correctly balanced, properly secured and safe to use. The springs are typically situated at the top corners of your door and are installed in pairs to take on even amounts of weight. Unfortunately, they do get damaged from time to time, from harsh weather, wear and tear, lack of maintenance, and accidents. It is, therefore, a good idea to partner up with a reliable team of technicians who can have your springs replaced or repaired when the need arises and can conduct regular maintenance to ensure that they last longer. Call a consultant from Garage Door Repair Chaska today for further details.
Spring Repairs and Replacements
Our team specializes in installing and replacing garage door springs, whether they are broken, are close to being broken, or are part of a new installation. If your springs are only mildly damaged, we can have them restored to you as well. Contact us today to find out more about spring repairs and replacements.
Maintaining The Condition Of Your Garage Door Springs
Regular maintenance and inspections of your springs will help you keep them in working order for longer. Our maintenance services allow you to spot problems before they arise, while routine lubrication will ensure that your springs enjoy a longer lifespan and better efficacy while avoiding the sudden challenges of broken garage door springs.
Sourcing A Sturdier Solution
Our team makes use of a variety of different spring types, some of which are designed to provide better strength. For a sturdier solution, we offer oil tempered garage door springs which are far more resistant to stress-based damages.
Contact Us Today To Find Out More About Our Services
For further details on our offers regarding garage door springs, contact one of our consultants from Garage Door Repair Chaska today, or explore our website.
Couldn't find what you're looking for? We also offer:
Torsion & Extension Springs Replacement
Opener Sensor Repair & Replacement
Galvanized Torsion Spring Replacement
Roll Up Garage Door Services